St. Peter's Lutheran Church
St. Peter's Lutheran Church is a family of believers that celebrates God's free gifts of forgiveness and eternal life. We use our diverse spiritual gifts to declare and share Christ in our homes and within our community.
Worship services
Join us in-person and online for worship Sunday mornings at 11AM
We are alternating between traditional and contemporary styles of worship every week, and the Lord's Supper is offered on the 2nd and 3rd Sundays of the month. To join us virtually, you can watch live and recorded services on your
Youtube channel
.
On September 19, in-person attendence will be on a first come, first served basis and capped according to 1/3 fire code occupancy.
​On September 26, in-person worship attendees will need to sign up in advance using the SignUpGenius link below.
Masks and physical distancing are now required at all times in the church building.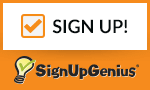 How to register for corporate (open) worship services
​
Each household must be registered separately by clicking the SignUpGenius button above. For the first name, please indicate the head(s) of the household (e.g. husband and wife). For the last name, please indicate the family's last name. In the comments section, please indicate the names of other household members (e.g. children). ​Please register by 8pm on the Thursday prior to the Sunday service you wish to attend.

Our Mission
In a loving Christian community, through the Word and Sacraments, we proclaim Jesus Christ as Lord and Savior for all people.