St. Peter's Lutheran Church
St. Peter's Lutheran Church is a family of believers that celebrates God's free gifts of forgiveness and eternal life. We use our diverse spiritual gifts to declare and share Christ in our homes and within our community.
COVID-19 RESPONSE
Open (corporate) worship is currently suspended to assist in curtailing the 3rd wave of the COVID-19 pandemic in Alberta. There are exceptions for funerals, weddings, and baptisms. Livestream worship is held on Sundays at 9:30am on our 
Youtube channel
.
​
How to register for corporate (open) worship services
As per government regulations, we must have the names of every person attending corporate (open) worship services.
Each household must be registered separately by clicking the SignUpGenius button below.
For the first name, please indicate the head(s) of the household (e.g. husband and wife). For the last name, please indicate the family's last name. In the comments section, please indicate the names of other household members (e.g. children). ​
Please register by
8pm on the Thursday prior to the Sunday service you wish to attend
.
May registration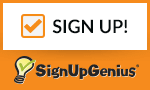 Our Mission
In a loving Christian community, through the Word and Sacraments, we proclaim Jesus Christ as Lord and Savior for all people.