It was the last day at the construction site today for our team. Pastor Luis and the congregation are extremely impressed with the progress. We worked until 2:00ish and then shut down for a celebration in the open roofed church with the community...sound system and all. These Nicaraguans really know how to evangelize! We brought a Pinanta stuffed with goodies amongst other activities and they provided entertainment. Some of the young people show cased their talent with dancing and singing. We had a wonderful time together and said our good byes at 5:00ish.
This is our last update and we will be returning Saturday night to Alberta. Hasta la vista,
The servant team
---
Day 13, Feb 2, 2011
Travel
Chinandega ---Montelimar

Day 14, Feb 3, 2011
Mission discussion & debriefing
in Montelimar

Wednesday, February 2 travel to Montelimar
Barcelo Montelimar Beach
(505) 22696769 www.barcelo.com


---
Day 15, Feb 4, 2011

Travel
Montelimar --- Managua
---
Travel -- Managua--- Houston--- Edmonton
Welcome Home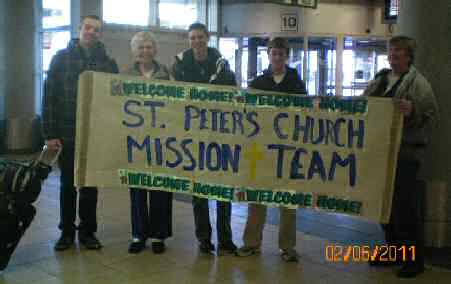 ---
You can't live a perfect day without doing something for someone who will never be able to repay you.
Thank you to our mission group, from all congregations, and the volunteers, fundraisers, contributors, supporters, & all the donations. You made it happen. Until the next mission...
Hasta la vista....y que Dios los bendiga (and may God bless)